Description
The Steam Sauna Pro is ideal for steam therapy or for use with ozone therapy.
The Steam Sauna Pro is an easy to use, portable and durable personal steam sauna cabinet. It can be used in the home, in a gym, in a massage therapy business or in any other place a steam sauna may be useful.
A Steam Sauna Pro in your home can save you money in the long run over going to a gym or therapist's office on a regular basis. If you own a business, you can profit by offering steam sauna sessions to your clients. It is made in the USA in Northwest Arkansas and is perfect for anyone wanting a quality, durable steam sauna.
The updated Steam Sauna Pro now has more foot and leg room, easy to use digital controls, more even heat distribution, and auto shutoff to protect the heating element. The digital control system actively displays the temperature inside the sauna, with pre-set modes available. It has a 60 minute timer with an intuitive design, and steam temperatures are adjustable up to 131F. The improved, adjustable seat provides a much more comfortable experience. The sauna also comes with free seat pad for added comfort.
The pre-heat sauna mode allows the user to bypass the timer and park the temperature at 90 degrees Fahrenheit. This allows for a much faster heat-up time so more people can use the sauna. Additional steam vents are included behind the seat for greater heat dispersion.
Great for Ozone Therapy
One big benefit of the Steam Sauna Pro is the ability to easily use it with Ozone Therapy. Because your head is not enclosed, inhaling ozone is minimal. If you're interested in using Ozone with steam, this sauna is ideal. An ozone port is included if chosen, which allows you to hook tubing from your ozone generator directly to the cabinet. Ozone will mix with the steam and circulate throughout the sauna. We recommend wrapping a towel around your neck before getting in to keep ozone and steam from leaking out around your head. Towel clips are also included inside the sauna. Simply choose the Ozone Ready model above.
All about the Steam Sauna Pro Cabinet
For home use, you'll have a completely self-contained unit ideal for a relaxing steam sauna at the end of a long day. For commercial beauty salons, your investment in the Steam Sauna Pro can pay for itself in a short time, depending on how much you charge and how many clients you have. This is because the costs of owning and operating a Steam Sauna Pro are very low, and because it is easy to maintain, it can be used frequently for multiple clients.
The Steam Sauna Pro does not need plumbing. You simply pour approximately seven liters of water into the stainless steel reservoir under the seat and plug the sauna into a 110 volt outlet (overseas customers will need a step down transformer). The thermostat has 10 temperature settings and a 60 minute timer. It will automatically shut off when the reservoir is empty to protect the stainless steel element. A special drain makes it easy to remove any excess water from the unit.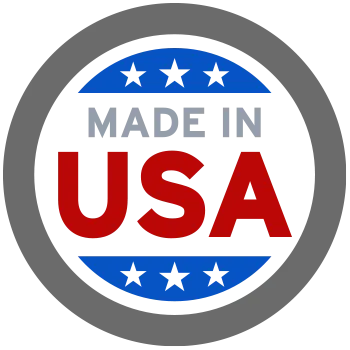 Weight: 75 lbs
Weight Limit: 300 pounds
User Height: The best measurement for height is from the seat to the neck opening, due to variations in leg size. Sit in a chair and measure the height from the chair to the top of your shoulders to find your torso height. The Steam Sauna Pro accommodates people with torso heights ranging from approximately 20.5" to 26".
Dimensions: 47″ H x 37″ L x 27″ W
Floor Space: 37″ L x 27″ W
Timer: 60 Minutes
Temperature Settings: up to 131F (55C)
Warranty: Five Year Limited
Power Input: Choose 120VAC, 50-60Hz, 12.5 amps OR 220VAC, 50-60Hz, 6.82 amps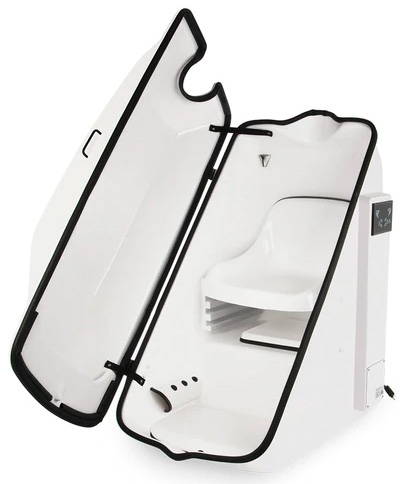 Sturdy Fiberglass Construction: Fiberglass is up to 10 times stronger and handles much higher temperatures and ozone input than acrylic. This makes it the ideal material for steam saunas.

Single Solid Door Construction: Our unit uses one solid single door with high quality stainless steel hinges. Unlike double doors that tend to sag, our door is four times stronger and will not warp like double doors do over time.

Digital Controls: Our upgraded digital controller allows you to adjust time up to 60 minutes and temperature up to 131F.

Adjustable Seat: The Steam Sauna Pro comes standard with a waterproof, adjustable seat. Four levels allow for plenty of options. See specifications for instructions.

Easy to move and clean: The Steam Sauna Pro is easy to move from room to room and easy to transport with super strong construction and bottom rear wheels.

Drip Guard and Floorboard: The drip guard in the door collects water and deposits it under the floorboard. Because the water collects under the floorboard, your feet won't have to sit in a puddle.

Solid Construction: With stainless steel hinges, elements and boilers, and durable, high quality fiberglass construction, your sauna is built to last.

Drain: The drain allows you to easily remove excess water from the sauna.
Steam Vents: Two vents on either side allow for more legroom without steam contact. Other vents point to the floor to aid in even heat distribution.

Years of Service: Low water shutoff protects your boiler. Quality construction will give you many years of service.
Towel Clips: Two clips inside the sauna make it easy to secure a towel in place.
Why use a steam sauna?
Steam therapy can be very beneficial in a variety of ways. Here are some of the benefits our customers have reported. Steam inhalation can be effective for treating respiratory conditions like the common cold, sinusitis, bronchitis, allergies and asthma. Steam can relieve inflammation and congestion of upper respiratory mucous membranes, throat irritation and spasmodic breathing, can loosen secretions like a natural expectorant, works to relax muscles and relieve coughing, and can keep mucous membranes from becoming too dry.
May increase white blood cell formation.
Relieves minor muscular aches and pains.
May help to prevent injuries by increasing muscular flexibility.
May increase circulation and metabolism.
May improve skin and body tone.
Hydrates dry skin.
Relieves stress, leaving you relaxed, refreshed and rejuvenated.
A 10 minute steam sauna session warms the body, increases circulation and relaxes muscles. For aromatherapy, put water-soluble essential oils in the water and the fragrance will gently rise with the steam. The combination of steam saunas and fragrance can greatly increase your level of relaxation.
Warranty & Returns
We are confident the Steam Sauna Pro will bring you many years of use if operated as described in our manual. If you receive your Steam Sauna Pro and any parts fail within 60 days, we will replace it or fix it. This does not apply to damage done by a carrier service as a claim will have to be made with the carrier. Any damage done on your part from negligence and/or alteration of the original equipment will void this 60 day guarantee. After 60 days, the sauna is covered by our primary warranty described below. If there are no issues with the sauna but you want to return it, you may within 30 days with a 15% restock fee. Customer will pay return shipping for these returns.
Warranty: Promolife offers a limited five year warranty on the Steam Sauna Pro Steam Cabinet. Promolife warranties the sauna to be free from defects in material and workmanship under normal use and service conditions from date of purchase as follows: 5 years on the fiberglass body, perimeter seals and seat; 3 years on the electrical components which include the timer, thermostat and boiler. We will replace any defective parts, free of charge, for the duration of the warranty, excluding defects caused by abuse or misuse of the equipment. Damage from accidents, negligence and/or alteration of the original equipment will cause this warranty to be null and void.
Note about shipping: Due to the size of the sauna, this product can only ship freight. Free shipping does not apply. Shipping may require additional fees for remote or hard to reach areas. If this is the case, we will contact you after purchase with an exact shipping cost for your location, or you can contact us with your address for your cost.
Note: It may take up to two weeks for a steam sauna to ship.
---
Return information: 30 days with a 15% restock fee. Customer must pay for the return shipping.